Setting Up Your Living Room with The Best Sofa Collections in 2022
Feb 28,2022 | Bryant Ndianefo
A perfect sofa positioned in the right place sets a positive mood in your living room. Without a doubt, you have to get your couch style right if you want to feel relaxed and comfortable after a tiring day or before going to bed.
At Tomor, we understand our clients' needs when setting up their first apartment or upgrading their living room furniture. This is why we tailor our Tomor sofa collections for all kinds of people. Whether you are a parent with little kids or a single working towards your dreams, we've compiled this guide to help you select your perfect cushion style.
This guide will learn how to choose the couch that fits your lifestyle. You will also find out the best sofa collections in vogue right now.
Choosing the Right Sofa That Fits Your Style
Choosing a sofa requires a thorough examination of the space, design, color, décor, aesthetic, and other factors. These features must work together to create balance and beauty in the room.
You must find out how these factors can be blended to achieve your desired taste. Here are the most critical questions you must figure out before choosing which couch to buy.
Where Should I Place My Sofa?
If you often watch television in the living room, the sofa must be placed there. However, if you prefer partying and speaking with friends, you should set up a pleasant lounge space at the front of the hearth or near the bar.
If the room is long and narrow, it will be challenging to position the sofa parallel to the fireplace. Doing this may make the room smaller and distasteful for you or your guests. Usually, narrow living rooms may need a smaller couch like Tomor's Nailhead Textured Fabric.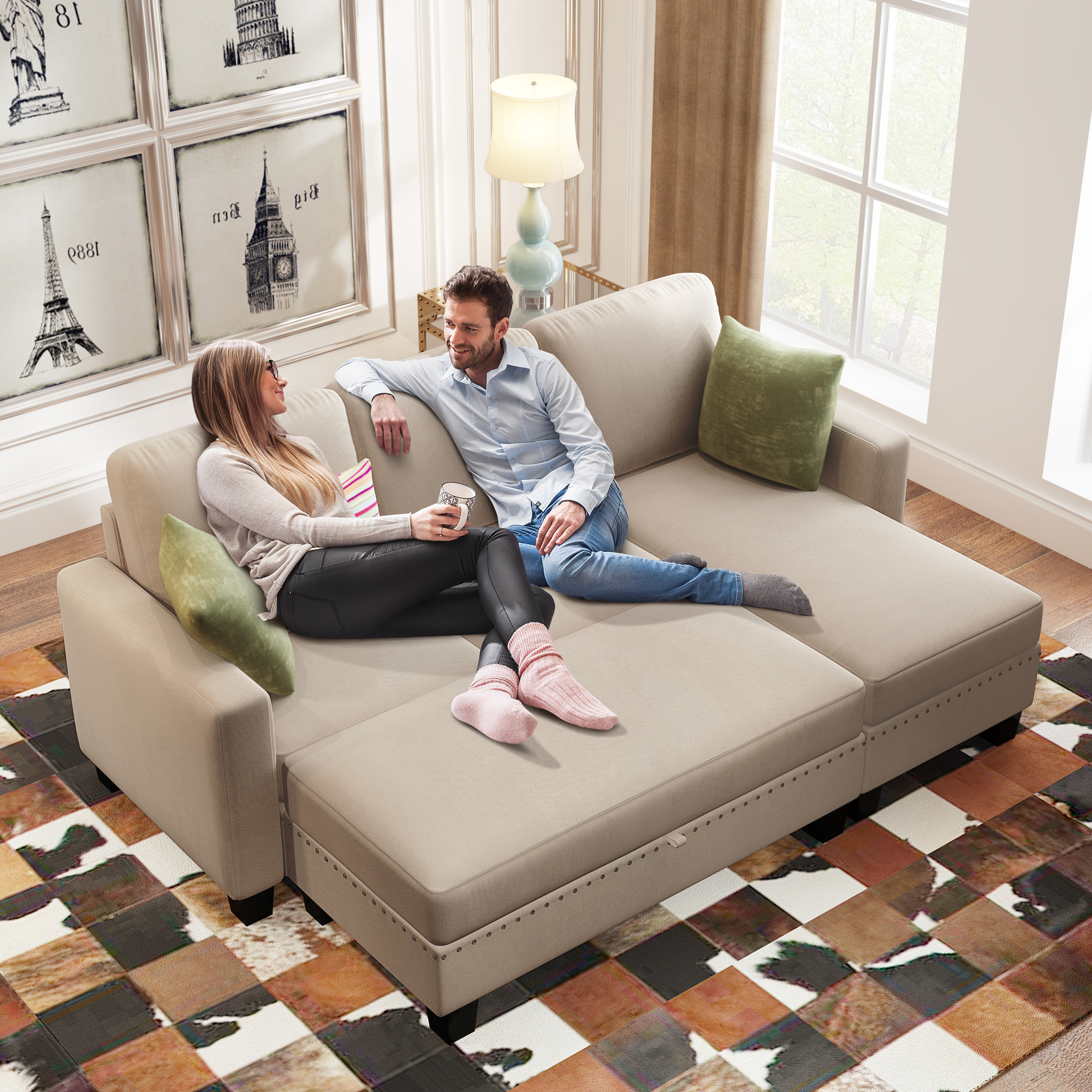 What Sofa Fabric is Suitable for My Living Room?
A hard-to-wear artificial fabric with stain protective treatments can be preferable for everyday sitting in a heavy-duty room. The leather of excellent quality is likewise a long-lasting option.
Synthetic fibers are always durable. A good example is textured fabric sofas, which are exceptionally hardy and perfect for the family since they are more stain-resistant and less liable to clog.
Generally, the fabric covering of the couch will establish the ambiance for your living area, whether you choose smooth leather or laid-back linen.
What Sofa Shape is Perfect for My Space?
Sofas come in a wide range of shapes which influences the size and how you will use it. Therefore, you need to be practical about the area available in your living room to make it seem exactly perfect.
A little sofa seems out of context in a spacious room, while a giant sofa squeezed into a tiny space feels confining. If you and your spouse both like to sit with your legs up, choose a deep sofa that can accommodate both of you. If not, a sofa chaise couch or a reclining sofa may be right for you.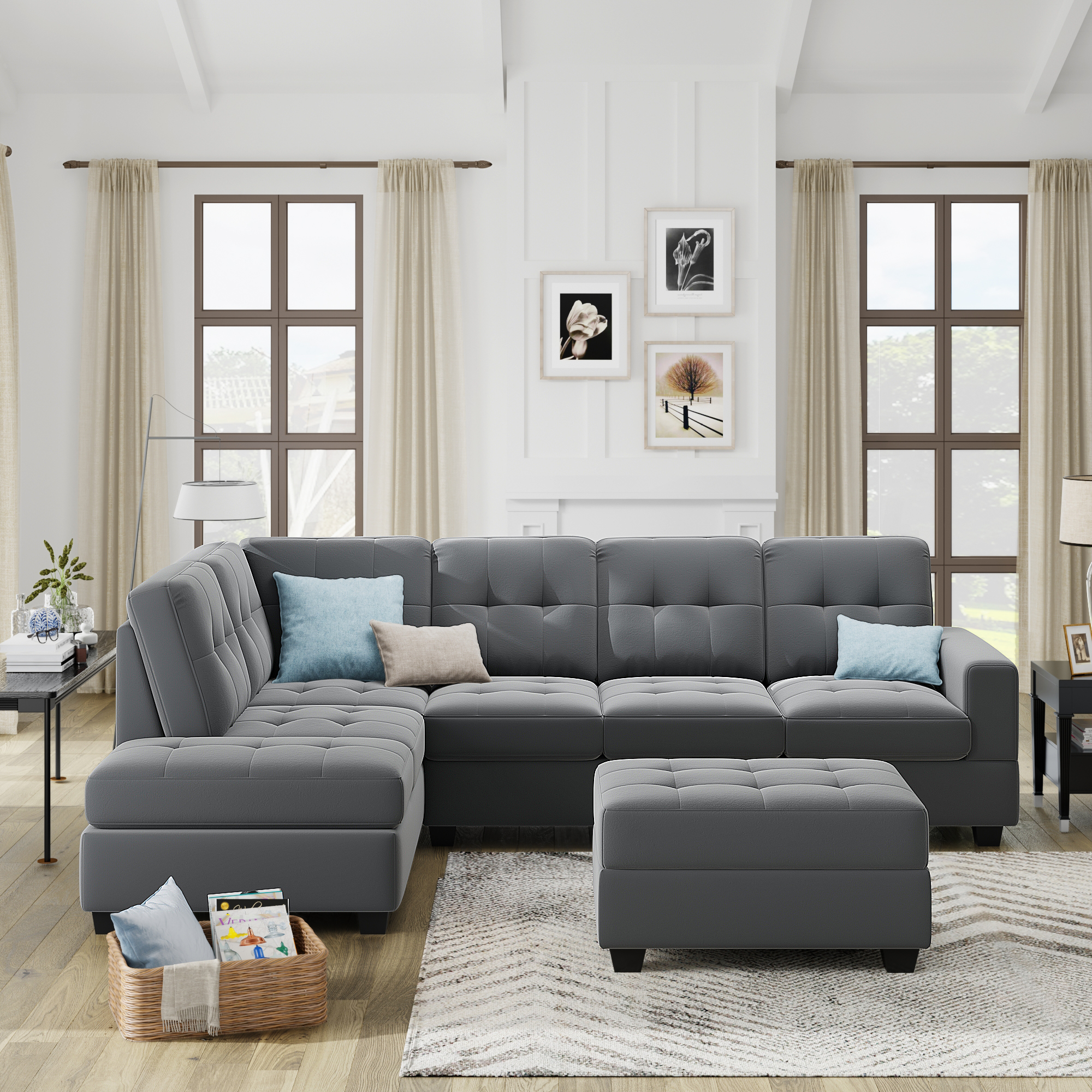 If you enjoy lying down on your sofa, get a long couch that allows you to spread out. A sofa with a higher backrest will provide additional assistance if you're taller, so you don't have to slouch.
How Can I Measure The Right Sofa Size?
Measuring your living room and door frames before buying the sofa will quickly help you get your couch through the doorway. It is frustrating to find out that a couch you love cannot enter through the front door.
You can place newspapers on the floor to get an idea of the sofa's dimensions. Otherwise, use masking tape to mark your floor. This will give you a logical view of the space the cushion will take in the room.
Walk comfortably around the sofa. Will the arms fit through the door opening, or will there be resistance that may lead to wear and tear? When buying adjustable sofas like Tomor's Reversible Pull Out Sleeper Sectional, ensure that you check out the full size. You should be mindful of the space it will consume when completely open.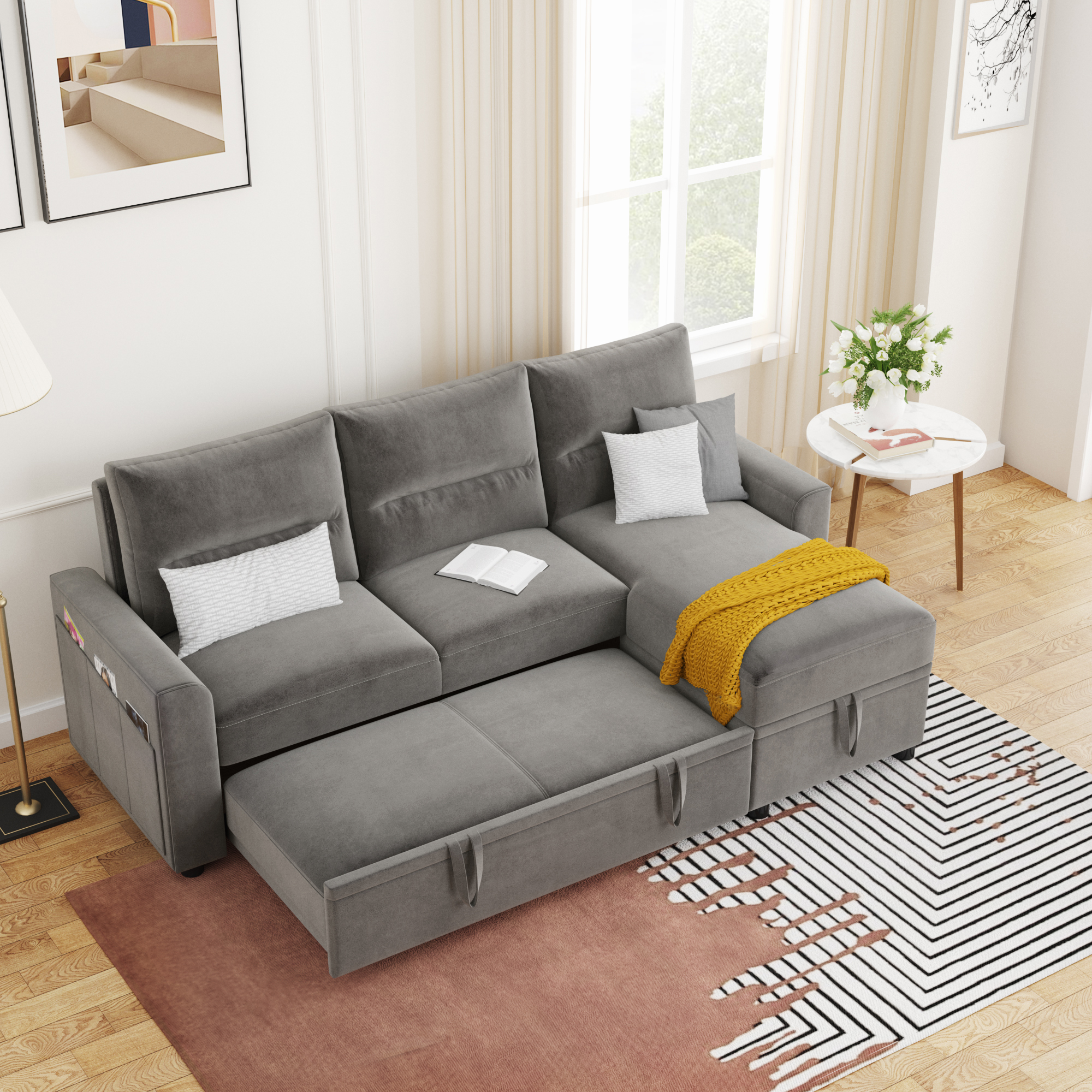 Choose adjustable sofas with removable arms if you need a bigger upholstery to enter through a narrow doorway. You can also select an alternative that's fully assembled or partial.
5 Modern Sofa Collections in 2022
Reversible Sofa Sectionals
If you want a flexible sofa that allows you to switch your furniture according to your needs, check out our Reversible Sofa Sectional. Tomor's Sectional Sofas are suitable for spaces, not for guest rooms.
A small family or single person can find this sectional useful. One moment, it serves as a sectional couch for two lovebirds or a small family. Another moment, it transforms into a sofa bed for resting after a long day at work.
Thanks to its technological sophistication, this pull-out sleeper sofa has extra compartments to the chaise. Game controllers, magazines, or TV remotes can easily fit into these compartments. And so, you don't have to worry about these basic living room items being disorganized.
Sofa Chaise
If you want a large yet soft sofa suitable for a large family or small party, you should get our Sofa Chaise. Tomor's chaise lounge is flexible for use when moving into your first apartment as a single or when getting into a bigger living room with a family of six or seven.
This l-shaped couch is made of high-density foam cushions that are resilient, making it return to standard shape regardless of its compression. Apart from comfortably relaxing on it with your legs stretched out, you won't need to worry about getting another sofa after so many years of use.
But, it is not just the high density that makes our sofa chaise durable. The cushion is built within a strong hardwood frame while mounted on sturdy legs that can carry up to 1800lbs. You can easily watch Netflix and chill on Tomor's L-Shaped Couch.
Nailhead Sofa with Ottoman
If you are looking for high-end couches with luxury designs, check out our Nailhead Sofa with Ottoman. With this sofa collection, you can make your living area even more inviting.
It is L-shaped and does not take up more space than when you have two conventional sofas. Unlike traditional cushions, you can easily take off your shoes and unwind.
The nailhead makes this upholstery attractive. You can choose to place the large ottomans (also with nailhead designs) on either the right or left side. And you may be confident that its ultra-neutral cushion with a textured fabric feel will match with anything.
Cushions are stuffed with foam and pocket springs to maintain the seat structure. This, together with the reinforced by a flexible spring structure, will help the foam last longer. The warm grey color gives it a sleek and futuristic look enhanced by the spacious track armrests, boxed cushions, and base.
Chenille Double Chaises Sofa
Need an upholstery that fits comfortably for two? Choose Tomor's Chenille Double Chaises Sofa. Sitting on the sofa gives comfort while leaning back, making it ideal for resting, studying, or sleeping.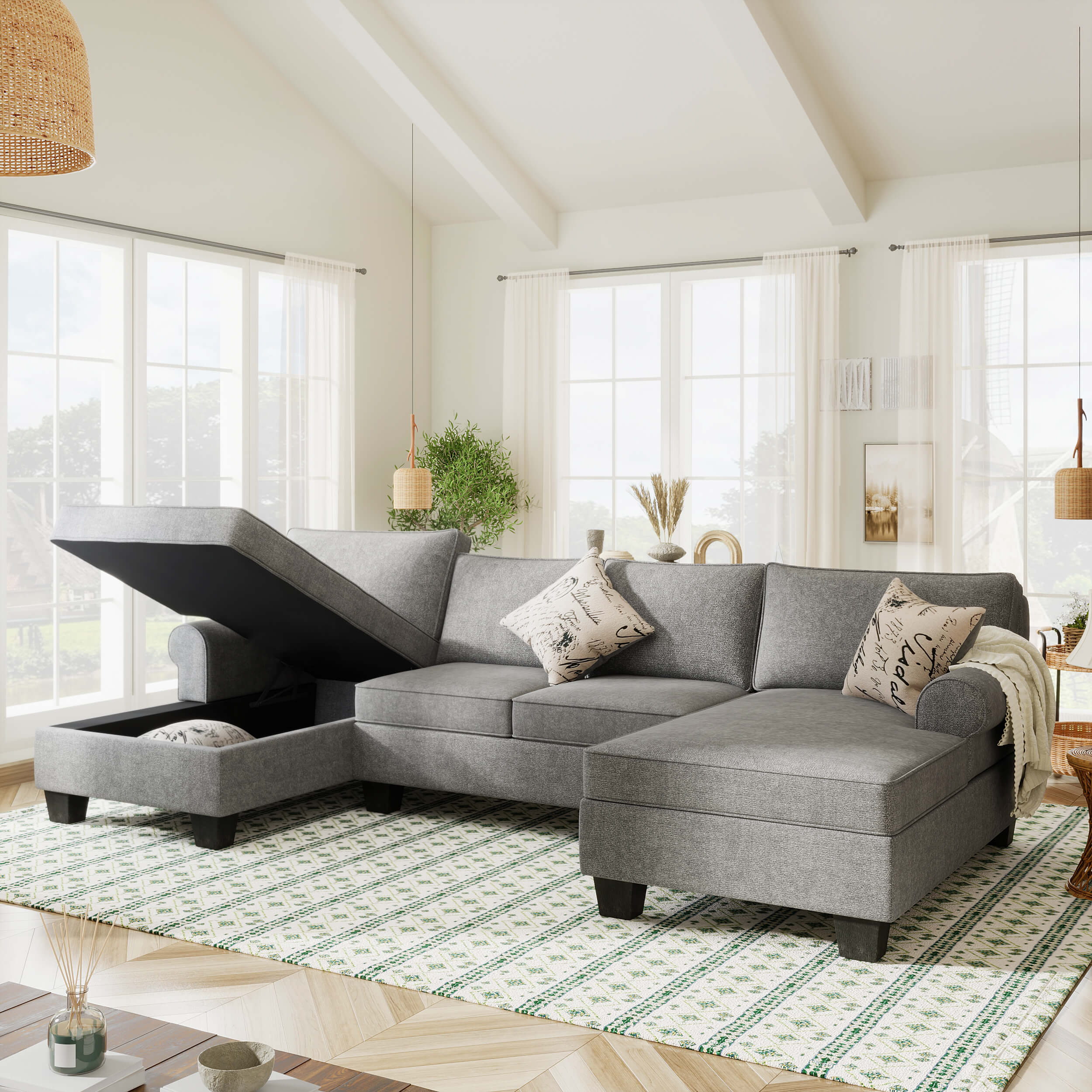 The U-shaped couch is meant for two people who want to extend their legs on one chair. A pet or a child can curl up in the middle to make a perfect evening for a small family.
It's so simple to fall in love with a sleek, contemporary aesthetic. And with the 3-piece sofa with couch sleeper, things just got a whole lot easier. That's because of the plush foam and pocket spring-filled cushions maintained by a sinuous spring structure, making it a good choice for any indoor living room.
To maintain the area neat and appealing, there are large storage niches under each chaise where blankets, cushions, and even heavy quilts may be hidden.
Textured Sectional Sofa Set
Get the Textured Sectional Sofa Set. Get the Textured Sectional Sofa Set. Get the Textured Sectional Sofa Set if you want a bigger L-shaped cushion for a bigger family, get the Textured Sectional Sofa Set. You can place this upholstery at the center of your living room to enjoy cozy daily time with friends and families.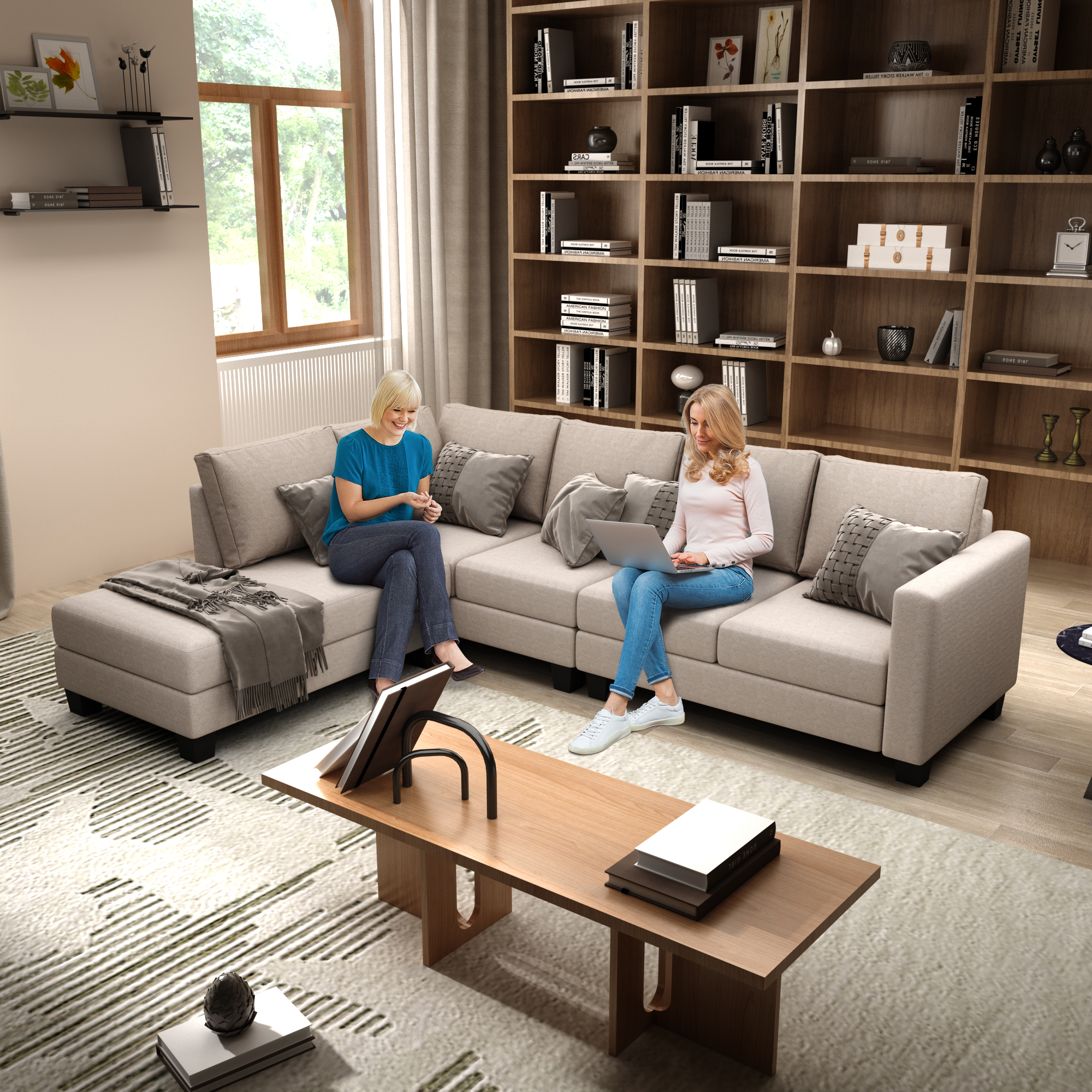 The style is simple yet sophisticated, designed with tightly-woven textual fabric. This fabric is repellent to water and tough against scratches with this fabric in place. And so, regardless of the heavy usage, you are sure to enjoy it for a long time.
Like other Tomor sofa collections, this cushion is enhanced by a curved spring technology. As such, you get a bouncy feel when you get up from it. All these features make it not only comfortable but also durable.
Try Your Sofa Today!
While you may have seen the beautiful designs and read reviews from our customers, there is no other way to know if a sofa is comfortable unless you try it out.
Generally, online shopping makes it impossible to try your new cushion before buying. However, you don't have to regret purchasing the beautiful chaise sofa you see online because it did not live to expectations.
This is why we provide our return policy to customers who may be dissatisfied with their purchases. All you have to do is purchase now, try, and return if you are not comfortable with the sofa.
Back to Welcome to Tomor Blog.